Get the 2019 Rogue Today!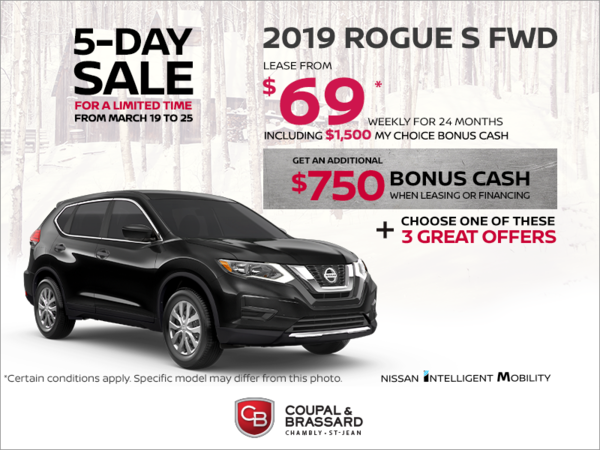 Lease the 2019 Nissan Rogue starting from $69 weekly for 24 months with $2,995 down on select models!
Or get it for the cash purchase price of $27,208. Including $1,500 My Choice bonus cash.
During the 5-Day sale, get up to $750 in rebate when leasing or financing a new Rogue!
Certain conditions apply. Book your test drive now!
Offers available from March 19 to March 25, 2019.
The lease offer is based on a maximum of 20,000 km/year (total allowance of 40,000 km for 24 months) with excess charged at $0.10/km. The first monthly payment and the down payment are due at lease inception. RDPRM registration fees and lien registering agent's fees (up to $77 total) are extra and due at time of delivery. Licence, registration, insurance, specific duty on new tires ($15) and applicable taxes are extra and due at inception.
Payments cannot be made on a weekly basis and are shown for informational purposes only.
The 5-Day Sale Bonus Cash of $750 is applicable upon leasing or financing offers of a new in-stock 2019 Rogue through NCF. This offer can be combined to a subvented lease of finance rate or any other available offer. The offer will be deducted from the negociated price after taxes and is not included in the lease payments announced.
My Choice Bonus Cash of $1,500 is available on 2019 Rogue models, purchased, leased or financed on approved credit with Nissan Canada Financial Services Inc. (NCF). The cash discounts cannot be combined with lease or finance subvented rates and will be deducted from the negotiated price before taxes.
Limited time offer provided through NCF on approved credit. And up to 1% rate reduction is available on new 2019 Rogue models financed or leased from a participating Nissan dealer. The customer will receive a reduction of up to 1% applicable on the lease or finance rates currently available through NCF to a minimum of 0% APR. Under no circumstances can rates be reduced below 0% APR.
Up to $1,500 payment waiver is available on the lease or finance of a new and previously unregistered 2019 Rogue model, on approved credit, from an authorized Nissan dealer in Canada. Up to the first 3 monthly lease or finance payments (exclusive of taxes) will be waived, up to the applicable maximum outlined above. After waived leased or finance payments, customer will be required to make all remaining scheduled lease or finance payments over the remaining term of the contract. If the total of 3 monthly lease or finance payments exceeds the applicable maximum outlined above, then customer will be responsible for paying any difference. If the total of the 3 monthly lease or finance payments is less than the applicable maximum outlined above, then customer will not be credited with the difference. The value of a customer's lease or finance payments will be impacted by the length of the term and the down payment, if any, as selected by the customer.
Offers are available on approved credit through NCF for a limited time. Offers subject to change, continuation or cancellation without notice. Retailers are free to set individual prices. Visit www.choosenissan.ca or see your Quebec Nissan retailer for complete details. Conditions apply. ©2019 Nissan Canada Inc.