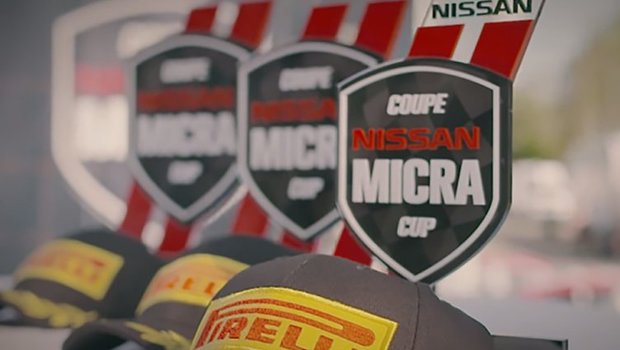 With its colourful autumn backdrop, the Circuit Mont-Tremblant was the stage for the final two rounds of the 2015 Nissan Micra Cup, marking the conclusion of the inaugural season.
The Circuit Mont-Tremblant welcomed the Nissan Micra Cup drivers for the final outing of the season, and two spectacular races decided who would be crowned the very first champion in the history of the series. This title was earned by the 18-year-old Quebec driver Olivier Bédard, who became the first-ever Nissan Micra Cup Champion, ending the season at the top of the podium five of the 12 rounds.
The Nissan Micra Cup will be back on the Canadian race tracks next year, with the announcement of the 2016 calendar coming this winter.
About the Nissan Micra Cup
Sanctioned by Auto Sport Québec (ASQ) and presented by JD Promotion & Compétition with the support of Nissan Canada, the Nissan Micra Cup exclusively features the stock Micra 1.6 S M/T model with minor modifications, including NISMO suspension - to render it race-ready.
Unlike most motorsport events, each competing Nissan Micra race vehicle will have the exact same specifications, resulting in a competition that truly reveals the most skilled drivers. The Nissan Micra Cup race vehicles remain equipped with the Nissan Micra's stock 1.6-litre DOHC 4-cylinder engine with dual fuel injection and Twin CVTC (Continuously Variable Timing Control) and stock 5-speed manual transmission. More than 25 Nissan Micras will compete on each race weekend which will include two hours of track time consisting of a 30-minute trial, a 30-minute qualifying session and two 30-minute races.
Young karting drivers, the average Canadian looking for an entry point into motorsport competition, or anyone who wants to experience the rush of adrenaline inherent with racing cars are all well-suited to this series. In summary, the Nissan Micra Cup is for people who are passionate about motorsports, want to experience all the fun and thrills of racing, but without spending staggering amounts of money.
About the Nissan Micra
In 2014, the Nissan Micra returned to Canada after 23 years as an all-new model, offering Canadians unbeatable value with the lowest starting Manufacturer's Suggested Retail Price (MSRP) in Canada at $9,998. One item that sets the 2015 Micra apart is its agility. Micra is easy to drive and park, thanks to excellent all-round visibility and turning radius, electric power steering and a power to weight ratio that surprises. Powering the front-wheel drive Micra is a DOHC 1.6-litre 4-cylinder engine rated at 109 horsepower @ 6,000 rpm and 107 lb-ft. of torque @ 4,400 rpm.