Get the 2019 Nissan Armada Today!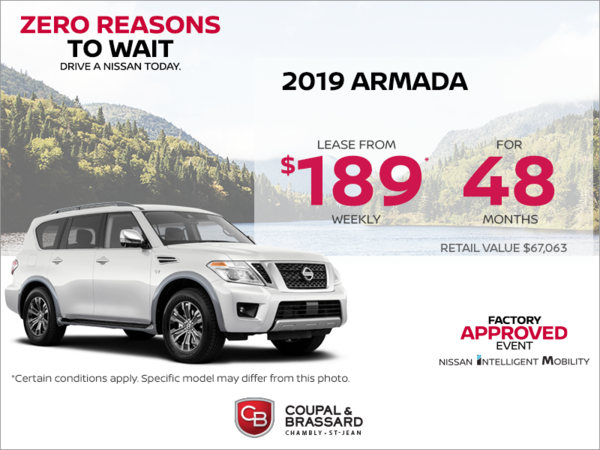 Lease the Nissan Armada 2019 starting at $189 per week for 48 months with $ 2,295 down payment on select models.
Or finance from 0% for 60 months on select models!.
Or, get it for the cash purchase price of $ 67,063.
Certain conditions apply. Offer ends May 31, 2019.
Hurry up and plan your test drive now!
Offer valid from May 1, 2019 to May 31, 2019.
The lease offer applies to the Armada SL 2019 model, for 48 hours, with 48 monthly installments of $ 818 with $ 2,295 initially paid by the NCF anc. The total obligation is $ 41,577. The discount at the $ 0 and $ 0 bonus location is included in the offer. First payment, initial transfer and $ 0 security deposit required at contract signing. Registration fees with the RDPRM and registration fees (up to a total of $ 77) are not included and are payable upon signature of the contract. Location based on an annual allowance of 20,000 km (100,000 km for a 60-month term) with additional mileage of $ 0.10 per km. Certain conditions apply.
** The financing offer applies to the SL 2019 armada and is based on a sale price of $ 68,563, on a purchase financing rate of 0% for 60 months. 60 monthly installments of $ 1143 with $ 0 in cash or an equivalent exchange. Credit charges are $ 0, for a total obligation of $ 68,563.
Transportation and pre-delivery costs $ 1,950, $ 100 air conditioner fees, if applicable, manufacturer rebates and dealer contributions (applicable). Taxes, registration, specific duties on new tires ($ 15) and insurance not included. Conditions apply. Nissan Canada Finance. Offers are exclusive and may be modified, extended or canceled without notice.
The illustrated models are for illustrative purposes only. Dealers can sell at a reduced price. This is not a cash exchange value. © Nissan Canada Inc.