The Nissan Advantage Program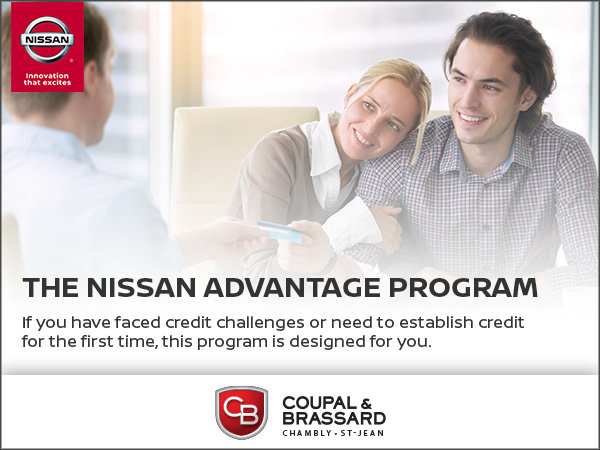 Nissan Canada Finance is pleased to announce the Nissan Advantage Program – one, easy program that combines many of the benefits of the former New Canadian and First Time Buyer programs. If you have faced credit challenges in the past or need the opportunity to establish credit for the first time, this program is designed for you.
Continue reading to learn more about the Nissan Advantage Program. Questions? Please contact your local Nissan Dealership - they'll be happy to help.
---
WHAT ARE THE DETAILS?

The details of the Nissan Advantage Program are:
The maximum amount financed cannot exceed $30,000.
A minimum down payment of $1,500 is required.
Proof of income satisfactory to NCF is required at the time of purchase.
A completed application with 1 reference is required at the time of purchase.
New residents to Canada must present one of the following:

Permanent Residency Card (SW1, SW2, SW3, SE2, PV2, FC, NV5, EN2, C1, C2)
IMM 5292 Form (Record of Landing)
Work or study permit/visa
Diplomat service

Non-landed applicants must present job contract and work permit.
---
WHO CAN APPLY?
The Nissan Advantage Program is available to individuals, based on approved credit through Nissan Canada Finance, who:
have faced credit challenges in the past or need the opportunity to establish credit for the first time; and
are interested in purchasing a new or current model year Micra, Versa Note, Sentra, Juke, Altima sedan or Rogue